To research
Hybrid, whatever that means, will dominate the future of online learning
In a recent survey, nearly all higher education online directors (COOs) expected online learning to be part of the typical student experience over the next three years. Although survey respondents did not necessarily agree on How many online would become the norm, it is clear that hybrid models are favored to dominate teaching by 2025.
The findings come from CHLOE 7the seventh edition of the Changing Landscape of Online Education report by Eduventures and Quality matters. In January and February 2022, the organizations surveyed 311 online leaders (or people in the closest equivalent leadership role) at public, private, and for-profit two- and four-year institutions across the country about trends. e-learning, students and teachers. support, quality assurance and more.
Respondents' projections of online and blended learning vary widely by learner type. While COOs expected the traditional undergraduate experience to lean toward "majority on campus, some online," they anticipated a greater role for majority online learning for graduate students. A balance of on-campus and online received high marks across the board for traditional students, mature undergraduates, and graduate students.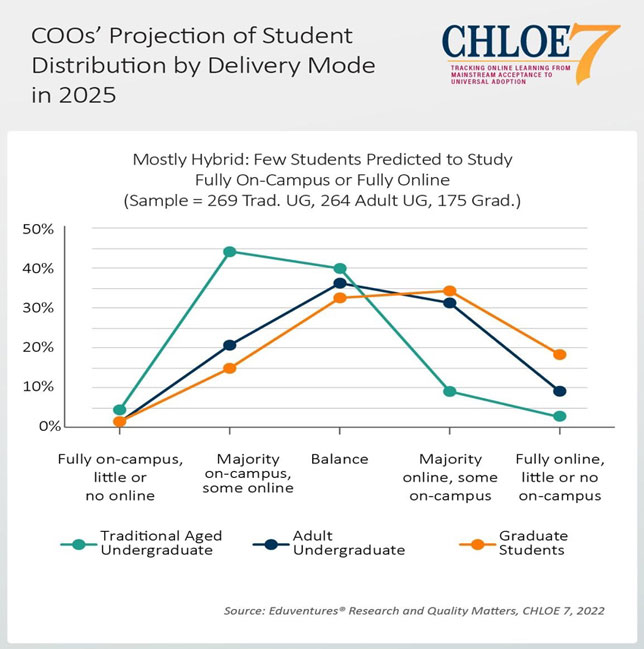 "COOs expect hybrid models, offering a balance between online and on-campus, to characterize the expected experience for the vast majority of students, regardless of their type. But there is a wide range between" majority campus, some online" and "majority online, some campus" and many possible permutations. "Hybrid", in other words, still lacks definition," the report comments.
The report linked student interest in online learning to the pandemic. The majority of COOs in the survey agreed that student interest in online learning increased in fall 2021 compared to fall 2019, regardless of student type. In fact, a good portion considered student interest to be "much higher." Only about a fifth of respondents said student interest in online learning had not changed, and less than 5% said interest had decreased. COOs were also asked to project student interest in the online future: again, respondents expected greater interest among students, but most predicted interest " a little higher" rather than "much higher".
Related reading
For more on e-learning trends, check out CHLOE 6's coverage from last summer:
"When asked to project learning patterns in their own institutions three years from now (2025), COOs predicted that few students would study exclusively on the job (4% of traditional-aged undergraduates and 1% of mature undergraduate and graduate students), or exclusively online (2% of traditional-aged undergraduates, 9% of mature undergraduates and 17% of graduate students)," the report states. "Instead, online leaders predict that the vast majority of students at all levels would combine field and online experiences through a variety of blended and hybrid formats at both the course and program level.
The full report is available on Site Quality Matters.